Mensen meenemen in het digitale verhaal is een groeiproces dat men best afstemt op maat van de organisatie. Lees hier welke voordelen organisaties kunnen halen uit de digitale transformatie en kijk samen met ons mee naar een procesoptimalisatie in het werkveld.
DIGITALIZATION NOT A GOAL BUT A NECESSITY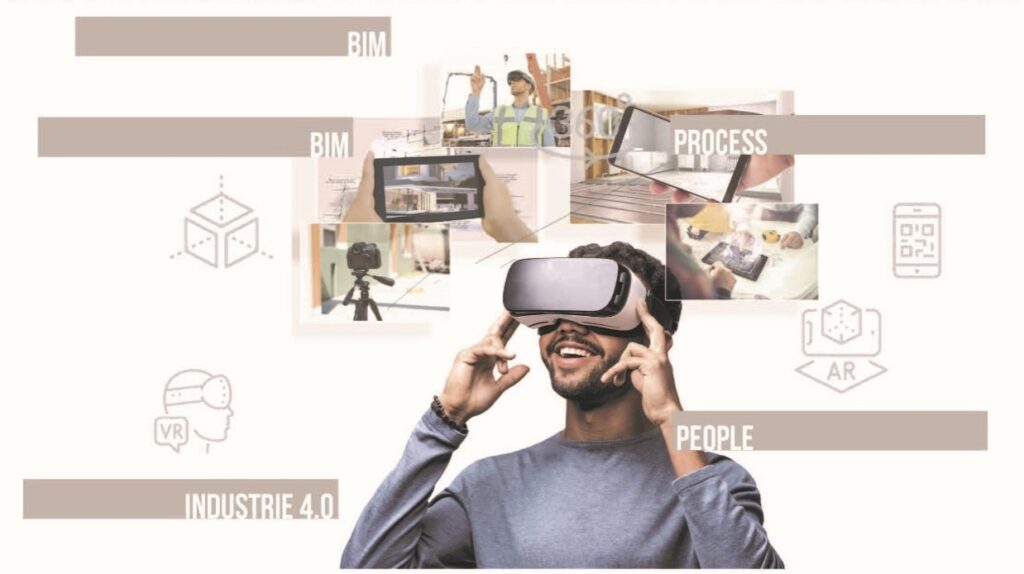 We can't ignore digitalization anymore. We order packages online, we scan QR codes for the Covidsa ticket. We even order our food through an app. But what does this lightning-fast evolution mean for businesses? What benefits can organizations reap from the digital transformation? We see opportunities to increase efficiency, improve work comfort for employees and provide better service to customers.
According to VOKA, digitizing means investing in the growth of your business. This challenging change brings important opportunities, but it is not always easy.
From a survey (audit) of the companies participating in this research project, 2 questions became clear:
What digital tools are available and how do I make the right choice
How do we get our employees and customers to join us in this digital story?
MAN AND DIGITIZATION
Bringing people into this digital story is a growth process that is best tailored to the organization. The digital transformation can also be seen as an opportunity to bring more agility to the organization. Calling on people for their knowledge and talents in order to provide an answer to today's challenges from a position of co-creation. By involving employees, partners and customers in the process, the benefits become clear and can be experienced. These are some of the ingredients for a successful integration of digitalization.
ADDRESS
So how do you tackle this? We put the focus here on "STOP SEARCHING, START FINDING". The search for an efficient process to streamline and make easily available all the information that becomes available during the construction process. Not only during the construction phase but especially to enable more efficient maintenance.
STEP 1 | THE CHALLENGES IN THE FIELD
What are the biggest challenges in the field? To discover these, in addition to the AUDIT, we did a further deepening with the "5 Why" method. In a nutshell
Stop searching start finding: 1 document in 1 place
Working with the latest and correct version
Streamlined digital exchange of information between employees and construction partners
Clear process and agreements both internally and externally
Structured PID as basis for the maintenance phase
The right software and tools that suit the organization
Future proof: opportunities for digital growth
---
STEP 2 | MAPPING THE PROCESS
BIP – Building Information Process
It starts with an idea or dream of the builder|owner. It can be about one's own home, a commercial building, a public building, housing in social housing and so much more.

Building partners and employees are tapped to realize this dream.


Practice shows that most construction partners have their own file, manage this file and then deliver it in their own way to the building owner. This results in a lot of information flows.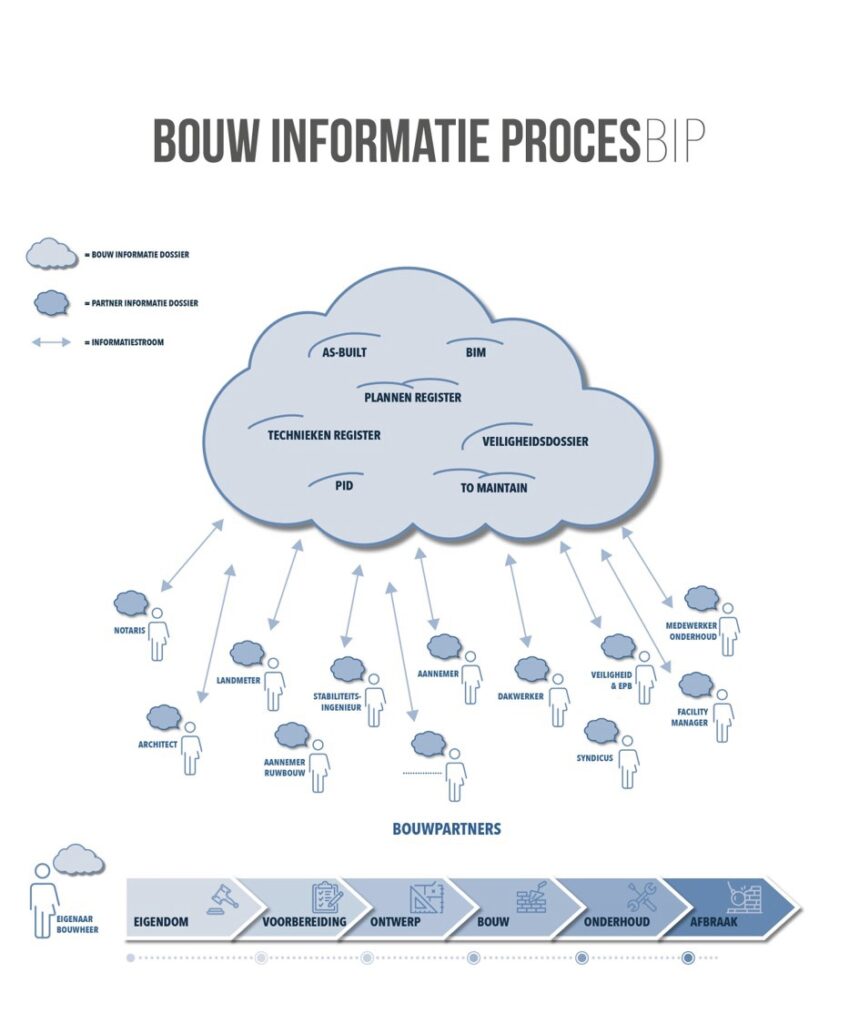 BIP = Building Information Process
The Building Information Process maps all building information and building partners across the entire life cycle of a building. Further elaborated, this file describes the communication flows and policies of the organization. It contains agreements, protocols, templates, checklists and process flows. Finally, it maps out the software and digital tools that support the entire process.
BID = Building Information Dossier
Contains all construction related information that becomes available during the life cycle of a building and includes the PID (Post Intervention File), Safety File, As-built ea.
If one adds the property file (ownership) then we speak of a GID = Building Information File.
BIP manager = The Building Information Process manager maintains the overview and ensures a clear process and clear agreements. From a helicopter view across departments and construction partners, the following tasks are important to the PROCESS:
Roll out within the organization
Monitor
Improve
Aligning the interaction between partners
Introducing new partners
---
STEP 3 | THE PROCESS IN PRACTICE
PRACTICE CASES
PRACTICE CASE 1: THE PLACE DESCRIPTION
A SUB-PROCESS APPLIED AT SHM ZONNIGE KEMPEN
When renters leave the house, Zonnige Kempen makes an internal inventory to see if the tenant has maintained and left everything neatly. Existing tools were often too cumbersome and did not meet their needs. As a result, they still worked on paper in order to maintain their own working methods. We applied LEAN to optimize the process and then added digital tools.
CASE STUDY 2: THE CONSTRUCTION INFORMATION PROCESS
PRPROCESS APPLIED AT SHM NIEUW DAK
A social housing company is the ideal partner to explore this process in practice. After all, they are the owner of the homes from land acquisition to the maintenance and management of the homes.
THE CHALLENGES
The common thread throughout this practical case was also Stop with search start with find.
1 document in 1 place
Streamlined digital exchange of documents between employees and construction partners
Clear process and agreements with construction partners
Structured PID as a basis for the maintenance phase
Which software and tools fit my organization
Opportunities for digital growth (future proof)
THE APPROACH
Putting together an improvement team across departments
Appointment of a Building Information Process manager
Mapping the current process
Optimize the process with integration of requirements and challenges
Toekomstbestendig
Evaluation of the software used (are the appropriate features present)
Elaboration of the various sub-processes
RESULT
Adapted process (medium level), Taking into account the different departments
PID:

Cloud environment for exchanging construction information
Folder structure in this cloud environment
User-friendly checklist for own organization and construction partners
Full and secure version of the PID in the existing file management system: 1 document in 1 place
Documents are made available in the maintenance program through a link to the file management system
---
LESSONS LEARNED
LEVELS
MEDIUM LEVEL
Align digitization with business processes.
Digitization, people and process is a dynamic exchange.
Use the appropriate tool|software (≠ 1 software for all processes)
Exchange information between programs (1 document in 1 place)
Work demand-driven with external partners
choose software that can link to other software in an affordable and easy way
BIP manager
Make sure the processes and digitalization is future proof so you can easily grow from medium to a high level
FUTURE PROOF
HIGH LEVEL
Work with an IFMS = intelligent file management system that controls the entire flow of information.
Link BIM, VR, AR and QR technologies for greater efficiency and ease of use
Detailed tracking of building elements and materials
Use info from maintenance to integrate within the design and construction phase.